2012.08.10 (Fri)

아티스트 : 싸이 (Psy)
앨범정보 : Studio
타이틀곡 : 강남스타일
장르/스타일 : 가요 > 댄스
발매정보 : 2012.07.15

Track list :
01. 청개구리(feat. G-DRAGON)[Blue Frog]
02. 뜨거운 안녕(feat. 성시경)[Passionate Goodbye]
03. 강남스타일[Gangnam Style]
04. 77학개론(feat. 리쌍& 김진표)[Seventy Seven 101]
05. 어땠을까(feat. 박정현)[What Should Have Been]
06. NEVER SAY GOODBYE (feat. 윤도현)

Alright, I know I should have post this earlier.
Psy, he has been joining YGE for few years.
He is a famous rapper in South Korea many years ago till now.
All his song is kinda meaningful for Korean. I think this is one of the reason why he is famous among all.
Oh ya, if you get a chance to attend his concert, you surely will end up with some sore throat and sweating like you just finished exercise for few hours!
He is a singer who really can rock the concert. I never been to any concert of his tho.
He is also a singer who came out with some funny dancing.
Like recently he did horse riding dance in his "Gangnam Style" MV.
"Gangnam Style" is a Korean neologism mainly associated with upscale fashion and lavish lifestyle associated with trendsetters in Seoul's Gangnam district, which is considered the most affluent part of the metropolitan area. In colloquial usage, it is comparable to the English slang terms "SWAG" or "YOLO".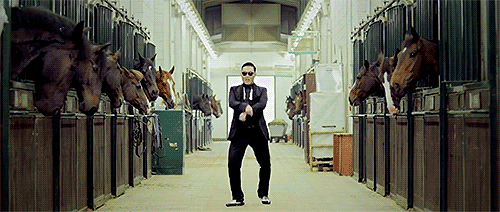 Well, these are the horse riding dance I've been talking about.



Seriously do not know what kind of dance is this. But I suppose it is now kinda famous in Korea also?

Click --> 싸이(Psy) - 6집 6甲 Part.1

강남스타일(Lyrics)

오빤 강남스타일
Oppa's a Gangnam style
강남스타일
Gangnam style

낮에는 따사로운 인간적인 여자
A girl who is warm and humane during the day
커피 한잔의 여유를 아는 품격 있는 여자
A classy girl who knows how to relax and enjoy a cup of coffee
밤이 오면 심장이 뜨거워지는 여자
But a girl whose heart gets hot when night comes
그런 반전 있는 여자
A girl with that kind of twist

나는 사나이
I'm a guy
낮에는 너만큼 따사로운 그런 사나이
A guy who is as warm as you during the day
커피 식기도 전에 원샷 때리는 사나이
A guy who one-shots his coffee before it even cools down
밤이 오면 심장이 터져버리는 사나이
A guy whose heart bursts when night comes
그런 사나이
That kind of guy

아름다워 사랑스러워
Beautiful, loveable
그래 너 hey 그래 바로 너 hey
Yeah you, hey, yeah you, hey

아름다워 사랑스러워
Beautiful, loveable
그래 너 hey 그래 바로 너 hey
Yeah you, hey, yeah you, hey
지금부터 갈 데까지 가볼까
Now let's go until the end

오빤 강남스타일
Oppa's a Gangnam style
강남스타일
Gangnam style

오빤 강남스타일
Oppa's a Gangnam style
강남스타일
Gangnam style

오빤 강남스타일
Oppa's a Gangnam style

Eh- Sexy Lady
오빤 강남스타일
Oppa's a Gangnam style

Eh- Sexy Lady
에에에에에에
Ye Ye Ye Ye Ye Ye

정숙해 보이지만 놀 땐 노는 여자
A girl who looks quiet but plays when she plays
이때다 싶으면 묶었던 머리 푸는 여자
A girl who puts her hair down when the right time comes
가렸지만 웬만한 노출보다 야한 여자
A girl who covers herself but is more sexy than a girl who bares it all
그런 감각적인 여자
A sensible girl like that

나는 사나이
I'm a guy
점잖아 보이지만 놀 땐 노는 사나이
A guy who seems calm but parties hard when he goes party
때가 되면 완전 미쳐버리는 사나이
A guy who goes completely crazy when the right time comes
근육보다 사상이 울퉁불퉁한 사나이
A guy who has bulging beliefs rather than muscles
그런 사나이
That kind of guy

아름다워 사랑스러워
Beautiful, loveable
그래 너 hey 그래 바로 너 hey
Yeah you, hey, yeah you, hey

아름다워 사랑스러워
Beautiful, loveable
그래 너 hey 그래 바로 너 hey
Yeah you, hey, yeah you, hey
지금부터 갈 데까지 가볼까
Now let's go until the end

오빤 강남스타일
Oppa's a Gangnam style
강남스타일
Gangnam style

오빤 강남스타일
Oppa's a Gangnam style
강남스타일
Gangnam style

오빤 강남스타일
Oppa's a Gangnam style

Eh- Sexy Lady
오빤 강남스타일
Oppa's a Gangnam style

Eh- Sexy Lady
에에에에에에
Ye Ye Ye Ye Ye Ye

뛰는 놈 그 위에 나는 놈 baby baby
On top of the jumper is a flyer, baby baby
나는 뭘 좀 아는 놈
I'm a man who knows a thing or two

뛰는 놈 그 위에 나는 놈 baby baby
On top of the jumper is a flyer, baby baby
나는 뭘 좀 아는 놈
I'm a man who knows a thing or two

You know what I'm saying

오빤 강남스타일
Oppa's a Gangnam style

Eh- Sexy Lady
오빤 강남스타일
Oppa's a Gangnam style

Eh- Sexy Lady
오빤 강남스타일
Oppa's a Gangnam style